About
About Us

Counseling Plus is a mental health services provider founded by Jennifer Miller in 2010. Jennifer's passion for the helping profession led her to strike her own path into private practice after several agency and public forum placements. It is Counseling Plus's mission to enable you to become the best version of yourself.
Jennifer Miller
I began my work in the Human Service field in 1996 at the Babcock Center working with individual patients that have lifelong disabilities. The work included treatment planning, life skills, goal setting, self management and coping skills and medication management for patients with Schizophrenia, Down syndrome, Cerebral Palsy and other lifelong disabilities.
I later joined the US Army Reserve and served for 10 years. I am combat veteran of Operation Iraqi Freedom/Operation Enduring Freedom/ Desert Shield. During my time in the Army , I worked as a military civilian for the Army National Guard in the Youth Challenge academy as a rehabilitation training instructor. There I worked with adolescents who were truant, had irreconcilable differences with their parents, conduct disorder, Bipolar disorder, etc.
I loved my time in the military and there is large part of me that still remains in uniform; however I have grown to learn how difficult it is to readjust back to civilian life and find you again. I was being deployed to Afghanistan when my son was 8 weeks old so I opted to not re-enlist.
Leadership comes in many forms and I chose to be the commanding officer of my household. With my military service and all that I have endured myself and my fellow veterans I specialize in Post Traumatic Stress Disorder (PTSD). Veterans and their families are of great importance to me; therefore they are an extremely prevalent population in my practice. There is great sacrifice as a service member and a great purpose of mine is to enable my clients to take their boots off, readjust, and improve their quality of life. I also enjoy working with individuals, couples, teens and the family unit as a whole. I do not believe anyone needs fixing, I was a mechanic in the Army, I now simply would like to help you become the best version of yourself.
Melissa Gainey, LPC-A
Born and raised in Lexington County, I attended the University of SC. There, I completed my bachelors in English Literature, and minored in Clinical Psychology. At that point, I decided that working with individuals to overcome Mental Health obstacles was my true passion, and completed my bachelor's in psychology as well, before moving to the beautiful mountains of Asheville, NC. There, I began my career at Eliada Homes, where I served as a Residential Counselor in an all-girls group home and psychiatric facility. I spent two years at Eliada, and then began work on my master's degree in Mental Health Counseling. While earning my Master's, I was employed with a renowned Community Mental Health facility, Carolina Outreach, Inc. It was there that I learned the art of Child and Family therapy, how to create close and lasting relationships within the community, and how to successfully assist individuals and families through Intensive In-Home therapeutic services. I was in Asheville for almost 9 years, and then decided it was time to come back home to SC to pursue my licensure, be closer to a growing family and to continue on my career path back in my hometown.
I believe in meeting every client "where they are ". I care deeply about the healing process, and believe wholeheartedly that with intentional work, and a solid and trusting therapeutic experience, your life can and will get better. I specialize in, and have extensive experience with, individuals who have experienced trauma of all sorts. Contemplative Psychotherapy practices, along with elements of Cognitive Behavioral Therapy comprise most of the work I do with clients, although I tend to sprinkle in various other theories and interventions, to tailor to each person's unique situation and experience. I enjoy weaving music, art, expressive writing, and other creative tools in my process. I am extremely excited to be working back in South Carolina and look forward to continuing to meet and work with new clients here at Counseling Plus.
Kendall Kirk, LPC-A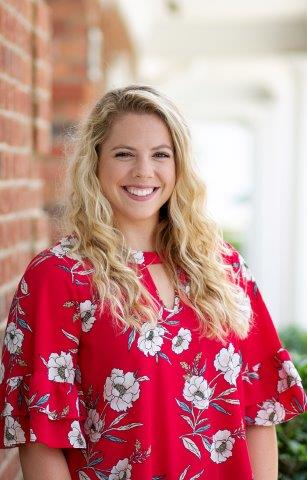 I obtained a Masters of Arts in Clinical Mental Health Counseling from the University of North Alabama. I am a National Board Certified Counselor. While working towards my degree, I worked in the university's athletics department as the Student Athlete Welfare and Development coordinator. There I provided case management services, mental health educational presentations, and referral references to over three hundred NCAA Division One athletes. While working in athletics, I also partnered with the university's Student Counseling Center, as an intern. There, I provided individual counseling, group counseling, and coordinated outreach programs for adolescents, young adults, and non-traditional students across multi-cultural backgrounds. I have worked with anxiety, depression, ADHD, eating disorders, adjustment disorder, and more.
My mental health work experience started when I began shadowing Jennifer Miller at Counseling Plus as an undergraduate student. Since then, I have worked for and been involved with Counseling Plus as an intern, for several years before gaining my license. My personal therapeutic approach developed through my passion for helping others and I continue to grow and refine my skill set to better assist all clients with achieving their personal goals. I believe in meeting my clients where they are in order to provide the emotional support they need and an opportunity to have a safe place to share their story.
Ja'neen Clark, Administrative Assistant
I am the Front office Administrator at Counseling Plus located in Lexington, SC, where I provide administrative support to Jennifer Miller and associates. I am a native of New Jersey where I volunteered in multiple nonprofit organizations and have had my share of community work from New Jersey to Philadelphia. I received my bachelor's degree in Family and Child Development from Benedict College in 2013. I also attended Southeastern Institute for Medical Billing and Coding. My goal is to complete a master's in hospitality management and obtain Certifications in Medical Billing and Coding. I have a myriad of interests: reading, crocheting, cooking and being one off the coaches for the Columbia Knights Cheerleading Team.
My mission is to inspire, lift and provide the tools for change and growth and to deliver effective efficient, respectful customer service with integrity. I thank Counseling Plus for allowing me the opportunity to use my skills to help others.